The 2007-2008 exhibitionat the Prado, Madrdd, bought together 27 works by the artist in addition to 24 by 17 other artists with the aim of revealing the context in which the artist executed some of his most important paintings. Among the works by Velázquez to be seen in the exhibition were 12 loans including
The Rokeby Venus
from the National Gallery in London, one of the artist's most famous works no longer in Spain.
The 51 works in the exhibition depicted a variety of subjects from biblical history, mythology and the classical world with the intention of focusing on Velázquez' originality in his approach to such themes, his remarkable technical versatility and the development of his art over the course of a career spanning more than four decades. With this aim in mind, the 27 works by the painter are juxtaposed with a further 24 by various artists which allow for an appreciation of Velázquez' response to external creative stimuli.
Among the other artists in the exhibition are two sculptures by Martínez Montañés and Gregorio Fernández, paintings by earlier masters such as Titian and Caravaggio, and works by great Spanish painters of Velázquez' own generation and the previous one such as El Greco, Ribera and Zurbarán. It also included examples of work by the leading non-Spanish artists of the day with whom the artist was familiar and who in some cases influenced his own painting such as the Flemish painter Rubens, the French artists Poussin and Claude Lorraine and the Italians Guercino, Guido Reni and Massimo Stanzione.
The group of works on display by Velázquez comprised his sacred and mythological compositions in the collection of the Prado as well as other important paintings on loan.
The latter included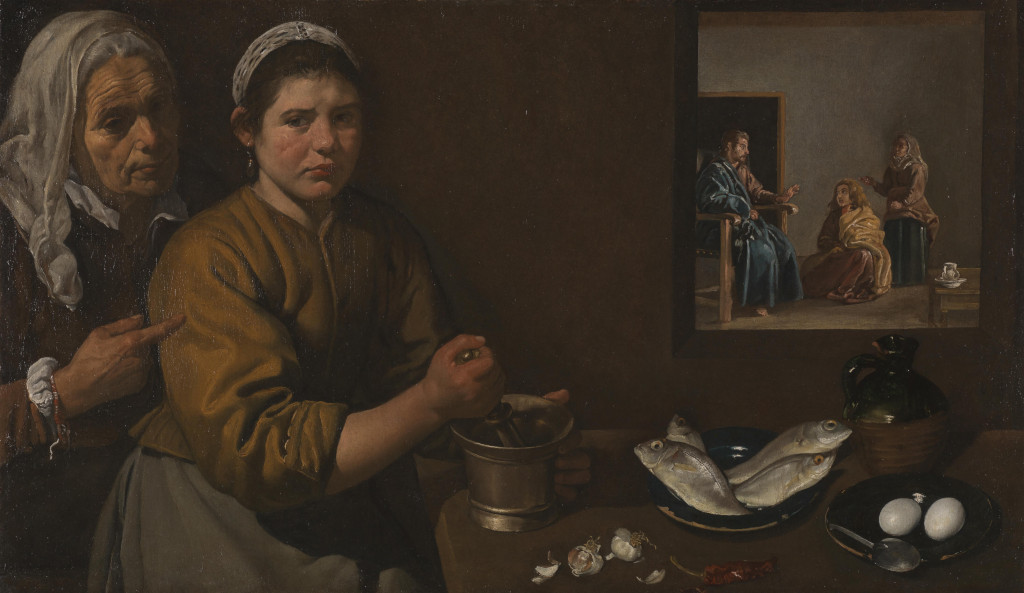 Christ in the House of Martha and Mary,




The Immaculate Conception




and Saint John the Evangelist
from the National Gallery in London;
Saint Paul
from the MNAC in Barcelona;
The Supper at Emmaus
from Dublin;
Joseph's blood-stained Coat brought to Jacob
from El Escorial
and
The Temptation of Saint Thomas
from Orihuela.
Among the works by other artists represented in the exhibition special mention should be made of
Poussin's The Triumph of David;
;




Joseph and Potiphar's Wife by Guido Reni;




The Immaculate Conception by Alonso Cano;
and
Rubens' Heraclitus.

Catalogue
Published on the occasion cf the exhibition (2007), this catalogue brings together, for the first time, most of the artist's religious and mythological works. Here, specialists in Velazquez and in 17th-century culture examine his religious and mythological production from the standpoint of the painter's aesthetic interests, the key events in his life, the artistic, intellectual, and social context in which he moved, and the expectations of his public. Addenda includes a section of text entries for the color plate reproductions. Illus., 52 color plates; 103 text figures. 375p